Golf Shoes
The Therapeutic Shoe for the active golfer.

| | |
| --- | --- |
| Price $ or get them at no charge! | |
Protect Your Feet While Improving Your GAME! These diabetic shoes are specially designed with golfers in mind. Golfing requires a lot of walking, which can now be done comfortably for diabetic patients with proper therapeutic footwear! Style, comfort, and performance don't have to be compromised to wear diabetic shoes.
The Therapeutic Shoe for the active golfer. Special designed therapeutic footwear for out on the green. Now improper footwear won't stand in between you and the game. ULTRA DEPTH shoes specialized for the active golfer is now an option. Stay active and comfortable with these specially designed therapeutic shoes.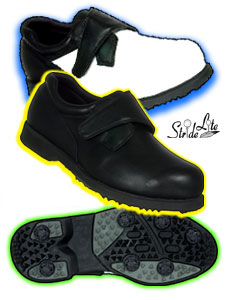 Click Picture to Enlarge

Available in two fashionable colors with Velcro closer. Plastic removable cleats for a better swing.
Designed by a golfer under the supervision of a team of diabetic foot specialists. This shoe offers the best in style, comfort and performance that is available for the active diabetic. An active lifestyle is essential to caring for diabetes, and Medical Resources Limited gives diabetic patients the option to live actively.
| | |
| --- | --- |
| Price $ or get them at no charge! | |